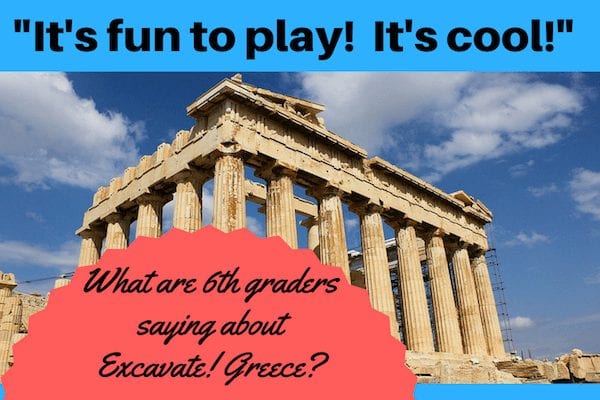 Students deliver their game reviews on Excavate! Greece and confirm that game based learning belongs in the classroom.
One of the great things about working at Dig-iT! Games is that we hear from some of the toughest customers: students! As teachers incorporate our Excavate! games into their classes, we have been hearing some insightful and encouraging feedback from their charges. Recently, we received some game reviews from a group of energetic sixth graders in Maryland, after they played Excavate! Greece. When their teachers asked if they should incorporate the game into their classes in the future, the students were highly enthusiastic.
Games in the Classroom are Fun!
"I think you should use it in the future because it was fun for me, so I think that it would be fun for other students too. Also you get to learn a lot, and you are having fun while you're learning so overall it makes the class really fun."
 "Fun" is definitely a core component of the game and also very important to this student!
In addition, many other students echoed that Excavate! Greece was not only fun but also somehow different from other learning games…
…You can interact, it's not boring as other learning games, and it teaches you by doing something fun.
…it is fun learning and not boring. It is not just one part, so you're not bored. You can learn a lot in a short period.
…I think students would be more eager to learn if they think that they get to do something fun.
Based on these game reviews, it looks like there may have been an underlying expectation that educational video games were boring to play.  We are glad to see that Excavate! Greece breaks that mold, but let's dig a little deeper to find out what is making this game so fun for students…
"...it is a fun game, you learn about Greece, and you get to participate in the digging of the artifacts."
"…it was very entertaining. It didn't bore me, in fact I played it multiple times, it was exciting digging up old artifacts and finally, I wasn't just using one tool you had to use multiple tools."
"...the activities were fun to play and pretend like we were there...the digging activity was fun and interesting to pretend like we actually were digging up the artifacts...they have you act like your digging up artifacts and writing down facts like some people have as a real job."
It looks like the digging mechanic in Excavate! is a hit!
Some learning video games are really fun, but educators must evaluate if they meet standards and facilitate valuable learning experiences.  Our Excavate! games are packed with rich curriculum-aligned content. Student performance outcomes are aligned to the C3 Framework of Social Studies State Standards.  However, the real question to ask is whether students recognize they are learning while playing…
…it teaches us about ancient artifacts, it teaches us about how the cultures lived, and it teaches us what they had in their time.
…you learn about ancient artifacts and how [people] used to live.
…it is a really fun way of learning about ancient objects.
But take heed, students will have to do some work in the game to get the biggest benefit.  Take advice from this experienced player.
"You should continue to use this game in the future because it is educational, but you need to make sure that the kids read everything in the analysis questions and the journal. Another reason you should continue is because it teaches kids how to examine artifacts, and lastly what things went on in Greece.
Teachers are always reminding students to read directions and informational text, but it is heartening to see that this student recognized that it was crucial for success in playing Excavate! Greece.
We hope you will take a moment to play Excavate! Greece now and in the future after reading these Excavate! reviews.  But don't take our word! We think the following student summed it up succinctly when asked whether the game should be incorporated into the class again:
"Yes because the future classes will love it. It's fun to play. It's cool!