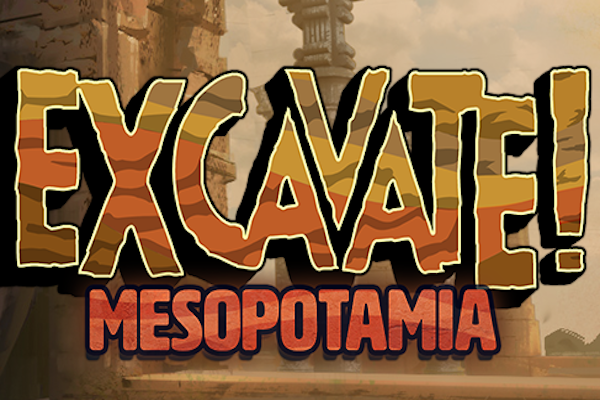 Looking for resources to teach your Ancient Civilization course? We are happy to present the newest game of our Excavate Series; Excavate! Mesopotamia. This game will engage learners with a simulation of an archaeological dig. Kids and adults will have fun exploring the sites of Ancient Mesopotamia and examining artifacts left behind by the people who lived there.
Develop map skills and learn about locations: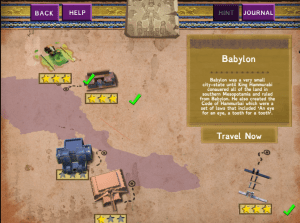 Mesopotamia means "the land between rivers" and this interactive game takes players through five different sites in Mesopotamia: Ur, Nineveh, Persepolis, Babylon, and Nimrud. Students discover the important historical figures, technological advances, and the important buildings from each of the locations. All information is found in the student's journal which can be accessed at any point in the game.
Explore archaeological tools and information about dig sites: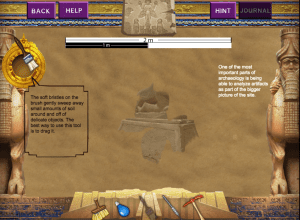 Players choose the correct tool such as a sieve, pick, brush, or trowel. Each tool is explained, but be careful! If you use the wrong tool you might break or lose the artifact! Click or drag the tool around the pit to uncover an artifact from the area. Fun facts about archaeology can be found while you are digging. Students can learn more about stratigraphy, tools, and soil while they are playing.
Use deductive reasoning: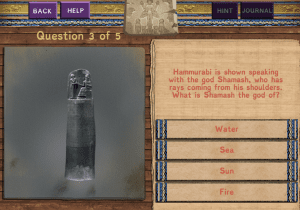 Students analyze each artifact by answering a series of multiple choice questions about the material, location, and function. If they are successful in completing all of the artifacts, the next location will unlock. Students are able to access all of the information about the artifacts by returning to their journal and reading about them. Example of artifacts included in the game are: The Royal Game of Ur, Stele of Hammurabi, the Tablets of the Epic of Gilgamesh, and a statue of Penelope from Persepolis.
How to use in class:
This is the perfect game to introduce basic archaeology and artifact analysis. It's great to play individually or as a class to discuss culturally relevant objects from these ancient lands. Students are able to explore and take ownership of their own learning because they can also play at home and bring back information for class.
Comparing civilizations:
Use this game along with Excavate! Mesoamerica and Egypt to let students compare and contrast each civilization and their artifacts. This could be a great lesson when discussing where people settled and the tools they used and why. Look out for more locations to come!
Let us hear your thoughts!
Find the game here. Have an idea for an ancient civilization that you can't find enough resources about? We'd love to hear what you'd like to see in a game! Send us an email or contact us on Twitter or Facebook to let us know what you think! Check out the full press release here.