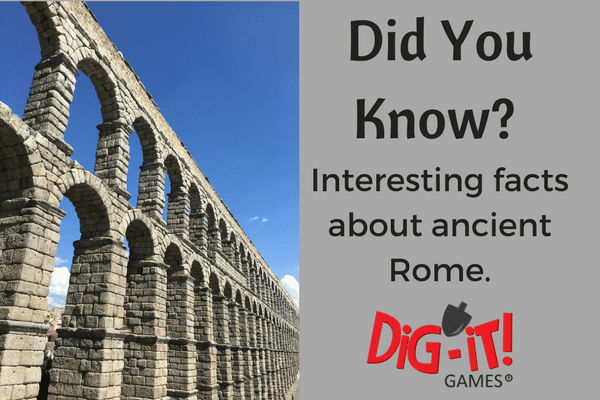 Uncovering Ancient Rome: Did You Know?
Ancient Rome has fascinated and intrigued people for centuries. It's easy to understand why: tyrannical leaders, wars, gladiators, and the rise of a vast empire. Hollywood has helped to fuel this fascination with interpretations of stories and people from this time period. However, many times movies and TV shows stretch the truth a bit to make things even more interesting. Here are a few great facts you can bet on to be true:
Gladiator Recovery Shake
Gladiators might have had a special "recovery" drink. According to this article from NPR, the bones of gladiators were found to have a higher level of calcium. While the cause isn't totally known, Pliny the Elder was quoted as writing, "Your hearth should be your medicine chest. Drink lye made from its ashes, and you will be cured. One can see how gladiators after a combat are helped by drinking this." Many believe that the ashes of charred plants were mixed into a drink that helped to boost their calcium to build stronger bones.
Baths Are for More than Bathing
The baths were for more than just bathing. Public bath houses were a large part of ancient Roman daily life. Romans would progress through a ritual of dipping in pools of differing temperatures. In place of soap, they (or their slaves) would rub oil on their bodies and scrape the dirt away with a tool called a strigil. Other than a way to get clean, the baths offered an opportunity for people to network with each other and relax. This article from LiveScience discusses some of the items found in the drains of Roman Baths. Jewelry, plates and cups, animal bones, and even scalpels have been recovered showing evidence of more than just bathing.
Second Floor with a View
Who doesn't love a penthouse view? In modern apartment buildings, the higher the floor you live, the more expensive it becomes. The top floor is supposed to have the best view and the largest space. Take this idea and flip it around when it comes to Roman apartments. These buildings, called Insulae, were built quickly and cheaply to house the ever-growing population of Rome. Though most contained only five levels, some reached up to nine. The fear of collapse and fire was real since it happened often. The top floors were usually the most cramped and did not have running water!
For the Birds
Wealthy Romans lived in individual houses called Domus. One interesting aspect of daily life of wealthy Romans was that they had pets! Dogs were very popular with Romans. The Greyhound and Maltese were two very popular breeds. Birds were also prized – many Romans domesticated nightingales, magpies, and ravens because they could be taught to speak.  However, many exotic species were imported such as peacocks and parrots and kept is beautifully decorated cages.
These facts can all be discovered in Dig-iT! Games' new Excavate! Rome game, along with many more that reveal the complexities of Roman society. Players take on the role of archaeologist and choose which location to dig in (the Colosseum, Baths, Domus, or Insula). At each site, they will uncover and analyze precious artifacts that tell the interesting and intriguing story of ancient Rome. In addition, we have our Excavate! Card Game for ancient Rome that allows students to put their knowledge of ancient Rome to the test. What facts do your students love to learn about the Romans?