Excavate! Card Game
A new way to introduce social studies civilizations to your middle school classroom. Keep the learning going off the screen with a fun, interactive, discussion-based activity for students!
Excavate! Egypt Card Game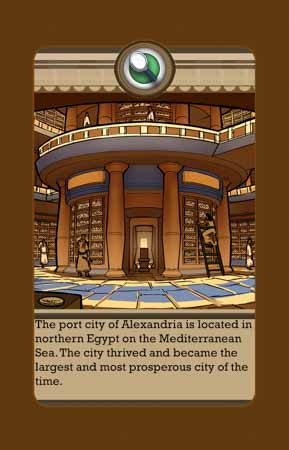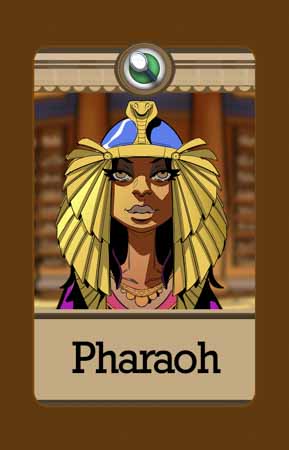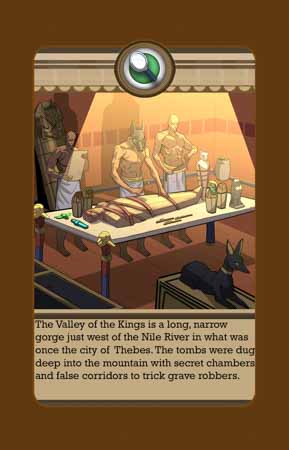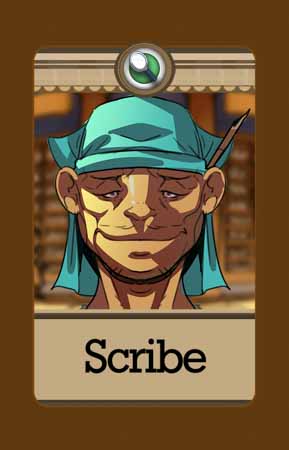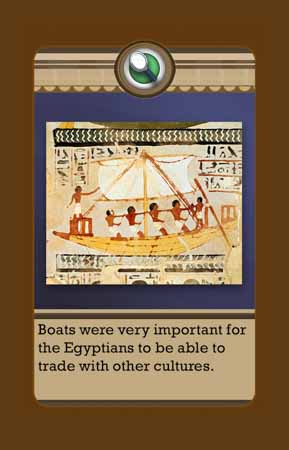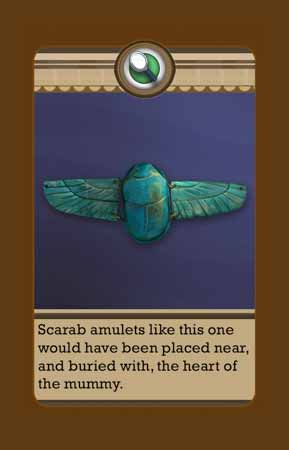 Game Overview
Each card deck allows 3-5 players for an average activity time of 30 minutes per session.
Each Excavate! Card Game Features:
8 People cards that highlight social roles
8 Place cards showing historically significant locations
32 Artifact Cards: primary source items excavated in the digital game
Sample card descriptions include:
"This type of helmet protected the head but made it difficult to see."
"Some Roman floors were decorated with mosaics, images made out of tiny tiles cemented onto the floor."
"A brazier was used for burning wood or charcoal."
"This fibula is a pin that was used to secure togas and cloaks."
"This amphora vase features an intricate design that showcases detailed images of men, women, gods, and nature."
"Stacked pottery tiles created passageways under the floor to heat air and water as part of the hypocaust system."
This game is designed for middle school grades 6, 7 and 8 but can be used in earlier and later grade.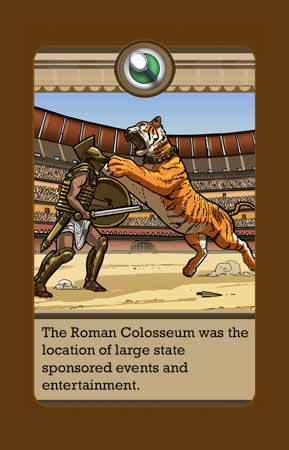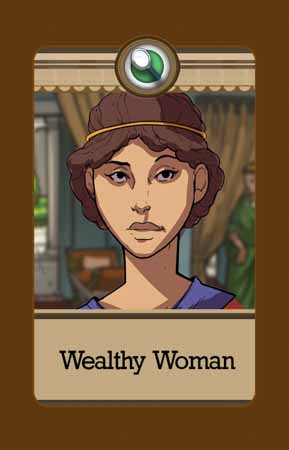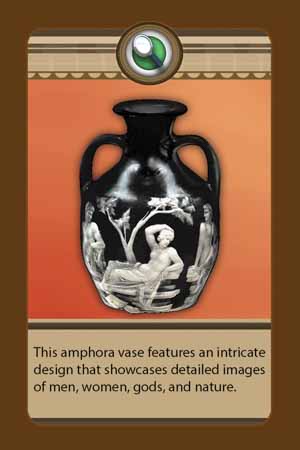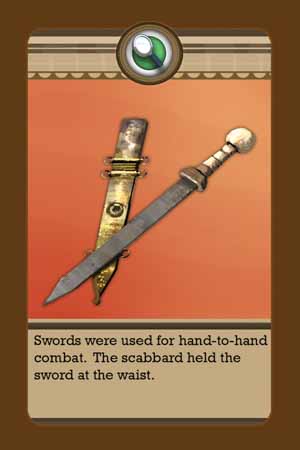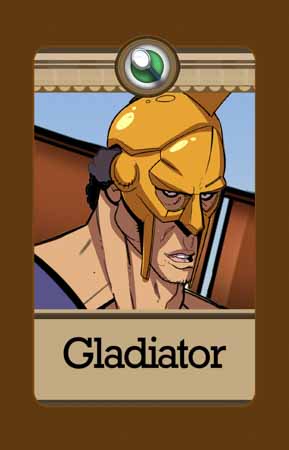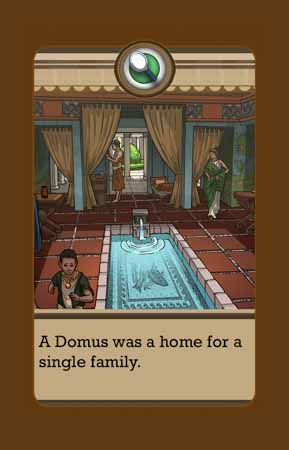 Excavate Card Game Rules
Participants (3-5 players)
Setup: Shuffle cards and lay out a 3×5 array of face up cards. Place additional cards in a draw pile nearby.
Play: Play is turn-based. Game continues until no cards are left in array.
Turn: Player selects 3 cards from array and explains how they are connected to the civilization. Other players listen and vote on whether explanation is historically correct or plausible: Thumbs up, player
keeps the cards and earns 1 point; Thumbs down, cards are discarded, no points are earned. Fill holes in array from draw pile.
Card Combinations: combinations must include either a person or location card. Combinations may not include more than 1 person and/or 1 location card. Acceptable combinations are: Person, Location, Artifact; Person, Artifact, Artifact; Location, Artifact, Artifact.
Sample Gameplay: Player selects Doctor (Person Card), Colosseum (Location Card), Surgeon's Tools (Artifact Card). 
Explanation is: "Gladiators were treated by doctors with surgical tools after fights to preserve them for future fights."
The Excavate! Card Game is a review game that allows students to showcase what they have learned while playing Excavate!   Students can showcase their knowledge by connecting people, places and artifacts with historically accurate explanations.  Increase the difficulty by challenging students to use divergent thinking and connect items that don't seem to have a connection at first glance.  You'll be amazed at how your students connect a gladiator sword to lead pipes or a set of marbles with an fresco wall painting.  A perfect way to review content while playing a creative game!
Printed Card Decks
The Excavate! Card Game is a companion curriculum learning activity that we developed for teachers to expand the Excavate! experience beyond the screen.  Originally a free printable download for a DIY card deck, the game was so popular we decided to publish printed card decks for the Rome and Egypt civilizations.  These are now available in limited numbers for a nominal fee to cover our production and shipping costs.
This middle school social studies activity is a great way to break into the discussion of a new civilization or review content throughout the school year. Get this educational card game and begin getting students engaged to ancient civilizations!