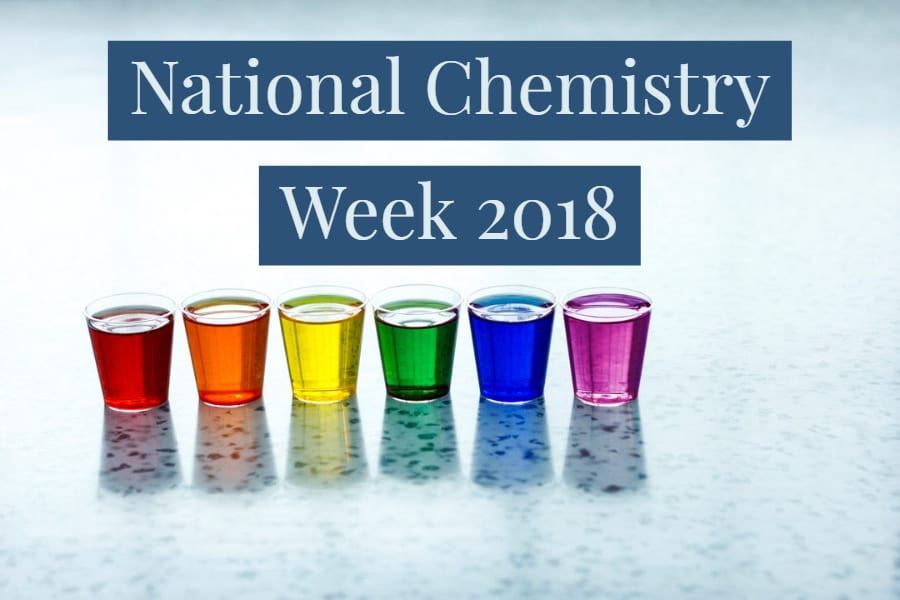 Next week is National Chemistry Week 2018! National Chemistry Week is an annual event hosted by the American Chemistry Society across the nation in order to get kids interested in the field. Each year has a new theme: last year's was Chemistry Rocks and focused on geochemistry. This year, Chemistry is Out of the This World!
To get you started celebrating this event, we collected resources and pulled out a few highlights to get you started on planning the week. Check it out!
National Chemistry Week Events

The ACS has plenty of tips when it comes to organizing events in your area for NCW. From recruiting volunteers to getting access to local venues, and more, the resources on the website are meant to help teachers and interested parties prepare for the week!
The community event for this year is planning a trip to a planetarium or science museum. Find one nearby and bring your kids or students there to learn about outer space! It fits into the year's theme of Out of This World. Use an established tour, make one yourself, or see if its possible to customize the experience to the age group you're targeting. You could even scale it down to a visit to the local library to check out books about outer space.
Chemistry Experiments and Activities
If you don't want to organize a field trip for the event, try out some suggested activities and experiments instead. In honor of National Chemistry Week, the ACS holds an illustrated poem competition. Consider inviting students to join for a full on STEAM activity. There's even a prize for the first and second place winner. Check out all the requirements here.
If you would rather stick with an experiment, the ACS has you covered on that regard too. Their Celebrating Chemistry packet is full of themed experiments. Students could make their own UV wristband or even create oxygen. They're all relatively easy to set up, so see what might work for you.
Out of This World with ExoTrex!

Of course, we can't get through an event about space travel without throwing our own space exploration learning game into the mix. ExoTrex casts players as an astronaut trying to find a new home for humanity in outer space. Chemistry, physics, and more are all included in the experience, so try it out for yourself to see how the game can enhance STEM education in the classroom!
You Might Also Be Interested In: