Excavate!™ Mesopotamia: An Archaeological Game
Return to the Excavate! adventures in exploration of the ancient Mesopotamian world! Introduce your students to basic archaeology skills and terminology while discovering the culture and government of Mesopotamia.
Learn the archaeological process:
Using the tools archaeologists use, players will uncover real artifacts from ancient Mesopotamia. Through gameplay players learn how to evaluate the proper tool to use and learn about the scientific process of excavation. Players are exposed to concepts such as stratigraphy, context and the importance of proper recording. Analysis takes center stage as players learn about the significance of the artifacts they collect and the processes involved in gaining deeper understanding about ancient people through material culture.
The complicated and interesting history of Mesopotamia.
In this game, students will travel to five different sites throughout the Mesopotamia. They will explore the ancient cities of Ur, Babylon, Nineveh, Nimrud, and Persepolis. Students will uncover and use deductive reasoning to learn about artifacts found in those locations. Here are some examples:
In Ur, students will uncover early chariots and learn about the invention of the wheel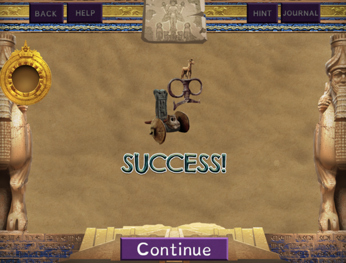 Students will be able to discuss Hammurabi's Law after excavating his Stele in Bablyon: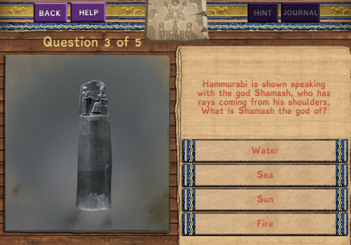 This game is the perfect complement to your Ancient Civilization course! It is sure to stir discussion about the culture of this very diverse and interesting culture. Use the game before your lesson to spark interest and allow students to explore the area or after to explore certain themes even further.
This game is one of a series which include ancient Maya and Egypt currently with more cultures coming soon. Ask us about buying the bundle of Excavate! games and watch your students start digging!
Purchases are for a single user on a 1 year subscription license.
This game is compatible on most recent HTML 5 browsers. It has been tested on the following desktop/laptop browsers:
Firefox
Chrome
Safari (on Mac computers)
Chromebook compatible: Yes Mobile Device compatibility using mobile browsers:
Ipad Series 3 : Yes
Ipad Series 2: Yes
Iphone: Currently Testing
Android tablets: Tested on Kitkat device coming to the Google Play Store soon.