Translate Maya Numerals and Think Differently About Math with New App from Dig-It! Games™
Today, we're excited to release a new game for all ages, 3 Digits: Translate Maya Numerals And Think Differently About Math!TM The new app challenges players' critical thinking and math skills while teaching the ancient Maya's revolutionary number system.
3 Digits turns math skills-building into a fun, fast-paced learning game that encourages players to think outside the box using addition, subtraction, and multiplication. The app, free to download via the iTunes App Store, immerses players in the base-20 Maya number system. A detailed tutorial introduces glyphs used for the three Maya digits: a shell for zero, a dot for 1 and a line for 5. Players can choose from four levels of difficulty based on their experience and the age of the player. At the easiest level, players only receive numbers up to 20. At the most challenging level, the numbers will reach 150,000.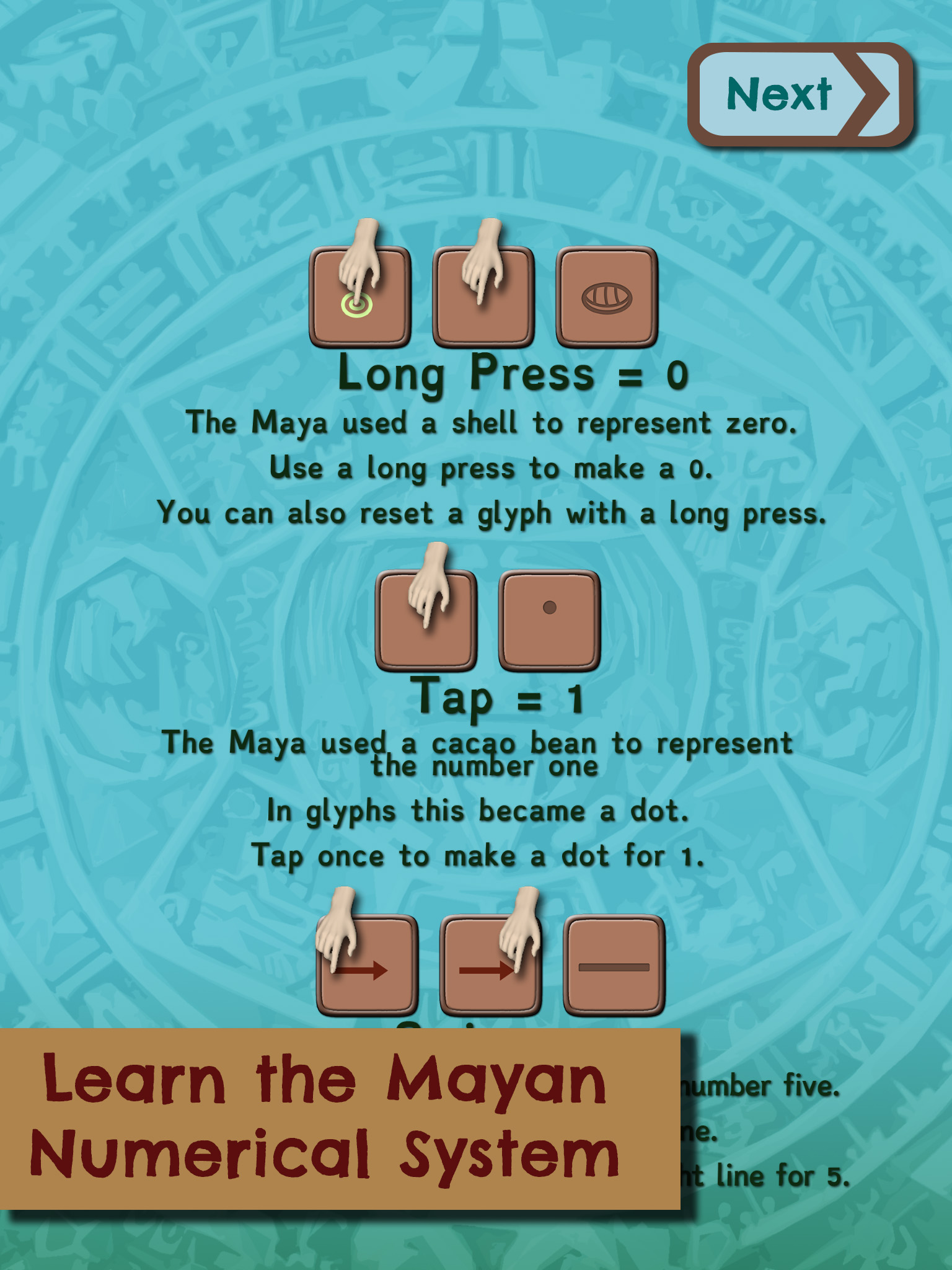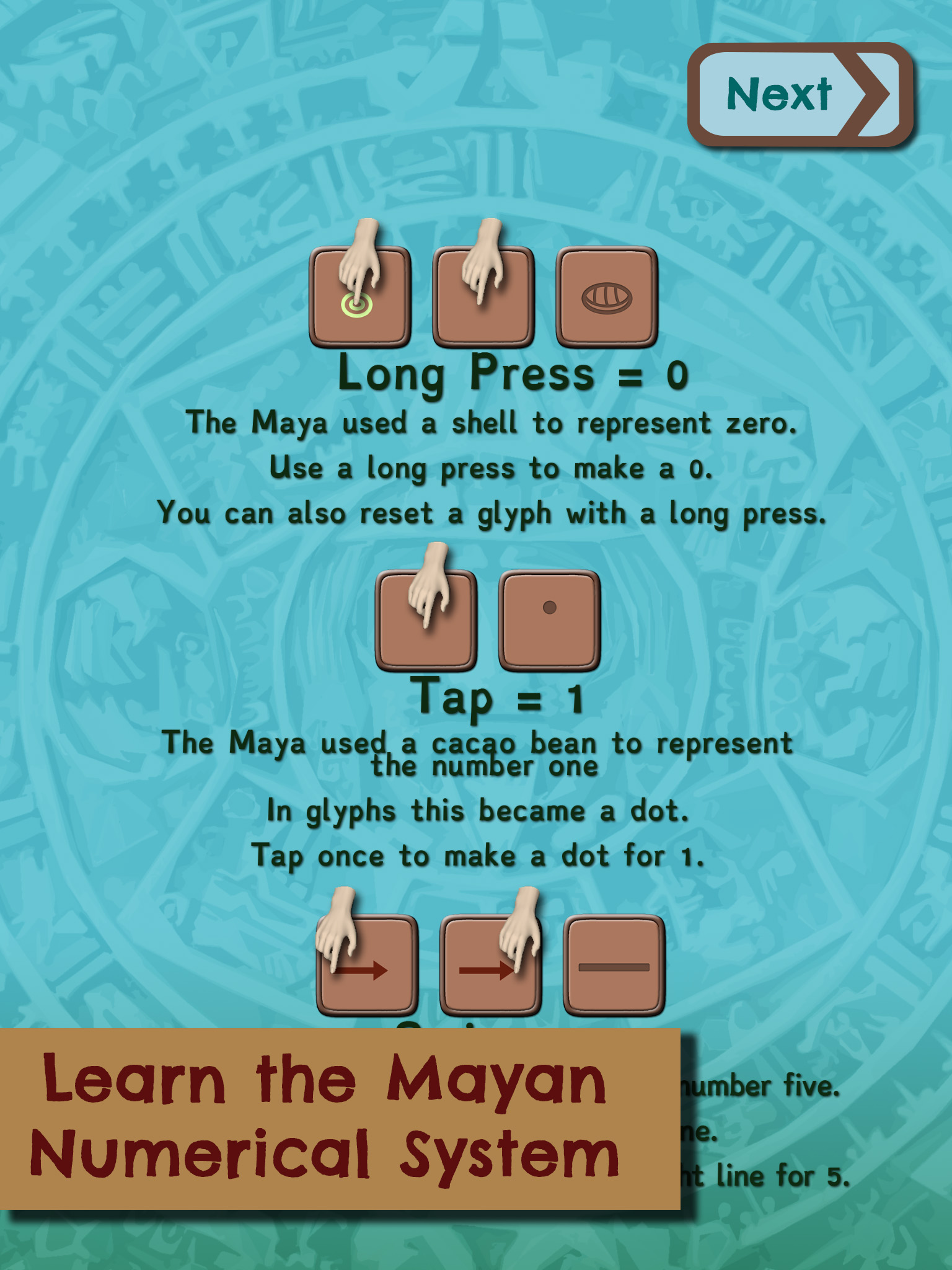 "Games like 3 Digits allow players of all ages to hone skills and discover new information in a way that blends both fun and learning," said Suzi Wilczynski, founder and president of Dig-It! Games. "A first grader, middle school student, and an adult can each play 3 Digits at an age-appropriate difficulty level, allowing for a family-friendly educational experience that challenges its learners to think differently about our number system."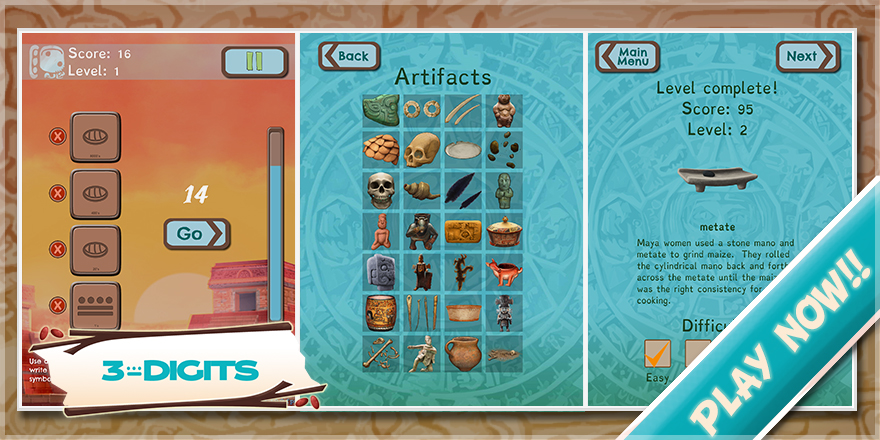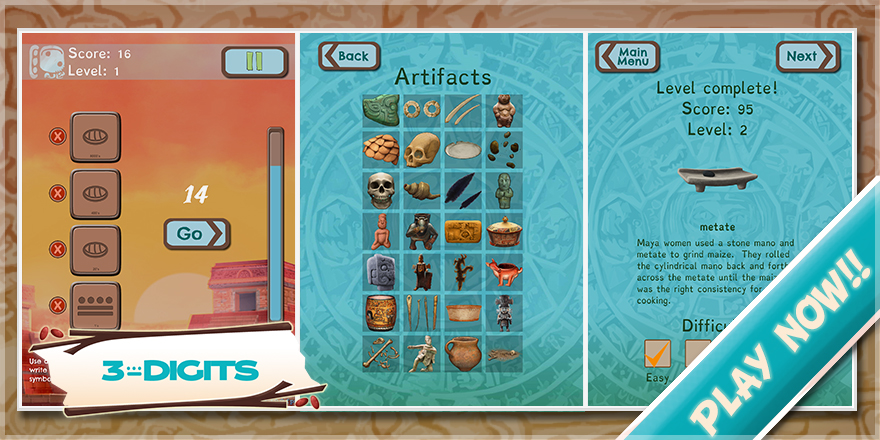 In either timed or untimed mode, players are presented with randomly generated numbers to convert into ancient Mayan glyphs. 3 Digits offers children and adults the unique opportunity problem-solve using place value, inherently testing and improving their math skills. Designed exclusively for the iPad, this companion app to Dig-It! Games' award-winning Mayan Mysteries™ game provides an entertaining and educational experience.
Meant to be played casually or used as a fun, engaging classroom supplement, 3 Digits is the latest app from Dig-It! Games to address the educational needs of students and is free to download on the iTunes Store. Roman Town™, Artifact Snatch™, Loot Pursuit: Pompeii™, Loot Pursuit: Tulum™, Mayan Mysteries, and Can U Dig It! ™ cater to the learning needs of middle school children. All six iOS apps are free to download through the iTunes store. Maya Quiz™, a companion to Mayan Mysteries, is available for purchase on the iTunes store.