Tim Mrozek is an artist at Dig-It! Games, bringing environments and characters alive through modeling and animation. Tim grew up in Catonsville, which is just outside of Baltimore, and of course, is a huge Orioles fan. He moved to Silver Spring, MD about right years ago to take a job as a 3D artist and animator at the National Institutes of Health. After that, he worked for four years at Pixeldust Studios as Lead 3D Modeler and 3D animator and worked on around 20-25 projects, including Fabric of the Cosmos, Alien Deep, NOVA: Cracking Your Genetic Code, The Smithsonian's X3D project. Tim was fortunate enough to be nominated for an Emmy for his work as character artist on a Smithsonian Channel show called Mass Extinction: Life on the Brink. Tim studied Animation Major at UMBC. In the spring, He'll be back at UMBC to teach ART 484 (advanced animation) in the evenings.
Tim sat down to answer some questions about his average day in the studio , what attracted him to educational games and his go-to karaoke songs.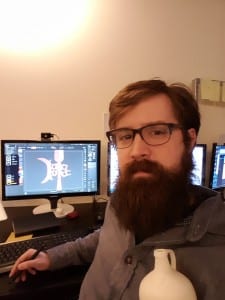 What's an average day at Dig-It! Games look like for you?
The flow of my day changes pretty frequently, but there are a few things that remain pretty constant. Every day starts with my bike ride from Silver Spring to Bethesda. This, of course, is immediately followed by obtaining coffee. Then I'll settle down at my desk where I'll do a quick visual review of any works in progress posted by the other artists. After that it really varies on a daily basis. Sometimes I get right into zbrush and start sculpting a 3D model for one of our games, or I'll open Photoshop and get to work designing the UI for one of our games, or menus. Sometimes it's a team meeting to critique each others work and discuss how we want to move forward on a particular design or game. Each day is exciting when you have a team of artists you really enjoy working with, and the dev team isn't too bad either.
What got you interested in game design?

I've always been incredibly intrigued by video games since the first time I played an NES. As a 32 year old, video games as a whole are only a few years older than me, so I've always been incredibly excited to age along with games. The moment that I really knew I wanted to pursue making games was when I first played Riven: The Sequel to Myst. I had never seen CG look so incredible. The mindblowing still renders in that game, combined with the really challenging, naturally integrated puzzles and story took me completely off-guard. I knew that I wanted to learn how to do this, and if I got lucky, make a living making games for the rest of my life. I've even joined a team of volunteers, called The Starry Expanse, that are rebuilding this inspirational game for the new generation using the Unreal Engine.
What is your favorite video or digital game from childhood?

Since I already mentioned Riven, I'll go with The Legend of Zelda: Ocarina of Time. This wasn't the first 3D game I had played, but it was the first 3D game in my favorite series of games (Legend of Zelda). This game gave me a whole new perspective of what was possible in a video game. I have probably replayed this game about 10 times in my life. While small by today's standards, the open world felt endless to me at the time. The first time I stepped onto Hyrule Field I felt like I was given complete freedom to explore anywhere I wanted, and I had never experienced this in a video game before.
What drew you to Dig-It! Games?
I've always been interested in using animation and CG for education. Before Dig-It! Games I was working at Pixeldust Studios where I was creating animation for Smithsonian Channel, National Geographic, and Discovery. I have always gravitated to games and TV that explore science, archaeology, and education as a whole. This, combined with my interest in making video games made Dig-It! a pretty natural choice. I love the idea of creating games that will inspire creativity and exploration in a new generation of kids.
What song would you sing at karaoke and why?
Funny you should ask, I was just at a karaoke party a week or two ago, and I sang three songs. Bad Romance, by Lady Gaga, Heaven on Their Minds from Jesus Christ, Superstar and In The Air Tonight by Phil Collins.