Ready for a Scientific Space Adventure?
The human race is on the brink of extinction and it's up to YOU to find a new, habitable planet. Use the revolutionary B.E.A.K.E.R. (Basic Element Analysis Kinetic Energy Reactor) fuel cell developed by universe- renowned scientist Dr. Gerald Burke to evaluate exoplanets and find humanity a new home. The adventure will require your best chemistry and critical thinking skills. Are you up to the challenge?
Puzzles and problem-solving exercises empower students in grades 8-10 to engage in active thinking and deeper learning as they build college and career readiness across STEM content areas
• Physical Sciences • Planetary Sciences • Mathematics
• Literacy • Analytical Thinking • Problem Solving
Standards Aligned: Next Generation Science Standards (Physical and Planetary Sciences Grades 8-10); Common Core State Standards, Literacy (Science and Technical Subjects Grades 8-10)
Suitable for HTML5 Compatible Browsers (Chrome, Firefox, Safari)
Featuring Dr. Hakeem Oluseyi as the voice of Dr. Gerald Burke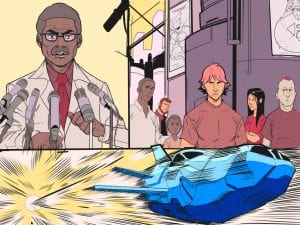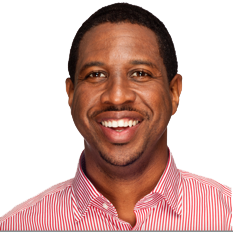 Dr. Hakeem Oluseyi: • Astrophysicist, Inventor, Educator • Chief Science Officer at Discovery / Science Channel
• Star of Outrageous Acts of Science  • Associate Professor Florida Institute of Technology
ExoTrex™ was made in association with Dr. Hakeem Oluseyi (Discovery/Science Channel) and the Burke Family
The ExoTrex™ story is told in episodes.  Each episode is a stand-alone game that can be played by itself.
Both Episodes are now available!
Available Now: In Episode 1, your students will demonstrate an understanding of atomic and subatomic structures as well as practice balancing chemical equations in order to power the ship. In addition, students will analyze the Earth's atmosphere, show understanding of renewable and non-renewable sources of energy and demonstrate knowledge of our solar system map. Your students will love this immersive STEM experience while they have a hand in helping humanity in the not-too-distant future!
Extrotrex 2 will challenge your students to not only learn to power the ion propulsion ship, but also to sample the planetary characteristics of known and unknown planets as they analyze, evaluate and make recommendations for an alternative to Earth.  Lesson plans are available for free download on the Exotrex 2 site.
They are loving reviewing their knowledge in an application context.
This game is compatible on most recent HTML 5 browsers.  It has been tested on the following desktop/laptop browsers:
Firefox
Chrome
Safari (on Mac computers)
Chromebook compatible: Yes
Mobile Device compatibility using mobile browsers:
Ipad Series 3 : Yes
Ipad Series 2:  No
Iphone: No
Android tablets: Tested on Kitkat device
The ExoTrex™ game has a series of fun facts on chemistry and planetary science presented by the character Dr. Burke during the game play.  These fun facts with the voice over by Dr. Hakeem Oluseyi are a great way to engage the classroom on a daily basis when preparing to use the game or in your lesson planning.  You can view them all on our YouTube Fun Facts Playlist