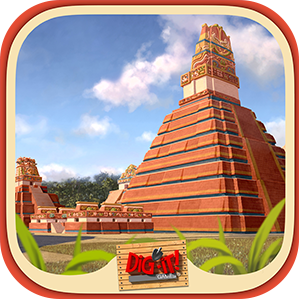 Explore the mysterious world of the ancient Maya!
Put your puzzle skills to the test, gather clues and solve the mystery in this hands-on archaeological adventure.  Explore Maya pyramids, investigate the Mayan calendar, excavate priceless artifacts, and travel back in time to explore Maya cities as you track down the mysterious Ladrone.  Will you be the one to locate the mythical city of Ich'aak, revealed only to those with pure hearts and the knowledge to protect the artifacts, sites and culture of the Maya?  The adventure awaits!
Become an archaeologist
Investigate clues to solve the mystery
Travel back in time and visit 8 real Maya cities
25+ challenging puzzles
Beautiful graphics and original music transport you to the Maya world
200+ Maya topics to explore
Immersive, interactive learning
Standards-based content
This game is now only available for older iOS ipads.  Please check availability at this link.

 Download Mayan Mysteries™ Lessons
Mayan Mysteries™ aligns to NCSS and CCSS standards

 Download Mayan Mysteries™ Standards