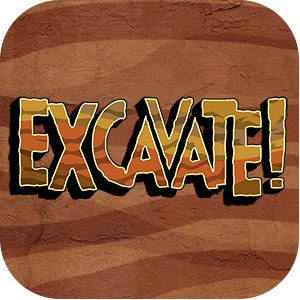 Excavate!™: An archaeology experience game
Experience a real archaeological excavation without getting your hands dirty! Excavate! simulates the archaeological process in a fun, engaging game format. Players use real archaeological tools to uncover artifacts in the field, then use logic and deductive reasoning to analyze their finds. A perfect game to complement the introduction of archaeology in the classroom or for parents sharing a lesson in past cultures.
Learn the archaeological process:cla
Using the tools archaeologists use, players will uncover real artifacts from ancient cultures. Through gameplay players learn how to evaluate the proper tool to use and learn about the scientific process of excavation. Players are exposed to concepts such as stratigraphy, context and the importance of proper recording. Analysis takes center stage as players learn about the significance of the artifacts they collect and the processes involved in gaining deeper understanding about ancient people through material culture.
This is the first chapter in a larger archaeology adventure game. Strap in to your seat as we transport you to five dig sites where you uncover the Maya culture.  Future chapters will have players continue to learn the scientific process of archaeology as they investigate additional sites in Central America, Europe, Africa and more. Players will explore cultures long past and more recent at sites ranging from the Bronze Age to Early America. Excavate! gives players insight into the full spectrum of human history across the globe.
2016 Holiday Giving Campaign
Are you giving a gift to your child's teacher this year?  What if you could give a gift to your child's whole classroom and to a classroom of underserved students for the same price?  With our Get One Give One Program you can give two classroom's worth of games for less than $25.  For a limited time, purchase 25 copies of Excavate!™, Excavate!™ Egypt, Loot Pursuit™ Maya, or Loot Pursuit™ Early America for a 67% discount off the individual price. You send the games to the teacher of your choice and we will donate a classroom's worth of games to a teacher at an underserved school.  Just add the game of your choice to your cart, apply the discount code TEACHER2016 and send the license keys you receive to your teacher.  It's the gift that truly keeps on giving and with your help we can eradicate summer learning loss.  Offer expires 12/31/2016.  For more information on our campaign to fight summer learning loss, visit our GOGO Learn page.